Property Management Systems & Solutions for Unavailable Investors
Are you the owner of multiple residential or commercial properties and are looking for the guidance and experience of a qualified property manager? Meeting the many needs that accompany property management is not an easy task for every property owner. Some purchase properties with the intent to oversee daily functions on their own, while others invest for the sole purpose of gaining sizeable revenues. If you consider yourself to be the latter, property management systems implemented by a committed and trained specialist can give you the freedom to come and go at your own pace without being restrained by various management responsibilities. Regardless of whether you do a lot of traveling, or work a second job, you can remain updated on your property's progress through your manager's company website.
Management from Afar
Keeping tabs on your properties is possible even from a distance. Online property management systems give traveling investors the freedom to check up on their investment's developments, including tenant-related affairs, rates, repairs, inspection reports, vacancy statuses, and much more. Client portals also give owners the ability to review important documents related to their finances and investment, such as leases, tax information, repair expenses, landscaping costs, and others. You'll have the ability to access your investment information from anywhere, and without having to carry around paperwork or maintain an organized filing system. Your property manager will handle the tediousness of accounting and filing for you, allowing you to focus on other important matters.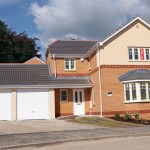 Free Up More of Your Time
There are a number of managerial tasks under the umbrella of property management, and the more properties you own, the more difficult it is to tend to each one. Property management companies give the options of selecting the services that may be needed and choosing how involved you'd prefer to be in the care and development of the property. Any aspect of management that needs assistance, such as repair requests, rent collection, evictions, leasing, or other, will be outlined in the contract with the rental management company choosen. By outsourcing the weight of ownership, the help of an experienced manager will allow you to devote time to other important endeavors, family, friends and more while having the confidence of security with your investment.
The Online property management systems are capable to manage multifunctional tasks. It helps you manage your property easily while saving you the time and money. Real Property Management uses incredibly effective system to manage all the property related tasks. Visit website to know more about what they can do for you.